All our rooms are fully accessible and visitors can enjoy the onsite Feel Good Cafe, or have refreshments and catering delivered by the cafe to your meeting. Please contact our friendly and helpful team on reception to ask any questions or to make a booking.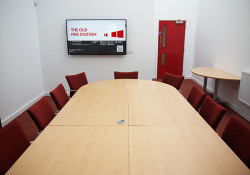 The Heselden Room
This bright room looks out onto our community garden and has capacity for 14 people around the board room tables, 20 theatre style, 11 in a U shape or 12 classroom for classroom style. We have a range of equipment that you can hire, including projection with our smart TV, conference call facility, and flip charts.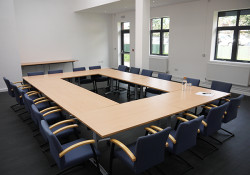 Jimi's Community Room
This spacious and light room can accommodate up to 50 people in a variety of settings,and has audio visual equipment to enable you to facilitate meetings and events, from training to conferences. Please get in touch to discuss your needs. With the tables and chairs removed, the space is also ideal for exercise classes, group activities and many other events.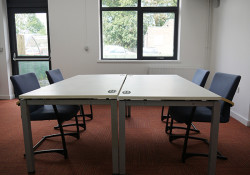 The Enterprise Room
Holding up to 10 people, the Enterprise Room is a flexible space that can be set up to accommodate your needs. With its entrance just off the cafe area, it's a useful space for meetings and activities alike.
Meeting Room 1, 2 & 3
The perfect space for small meetings of up to 4 people - ideal for interviews, 1-2-1 appointments or to hire as an office for the day.
Price per session:
Morning, Afternoon or evening inc VAT
Room for Hire
Community Group
Charities & Tenants
Commercial
Jimi's Community Room
£48
£72
£144
The Heselden Room
£30
£42
£90
Enterprise Room
£24
£30
£60
Meeting Room 1, 2 & 3
£12
£12
£36
Room For Hire
Jimi's Community Room
Community Group
£48 Inc VAT
Charities & Tenants
£72 Inc VAT
Commercial
£144 Inc VAT
The Heselden Room
Community Group
£30 Inc VAT
Charities & Tenants
£42 Inc VAT
Commercial
£90 Inc VAT
Enterprise Room
Community Group
£24 Inc VAT
Charities & Tenants
£30 Inc VAT
Commercial
£60 Inc VAT
Meeting Room 1, 2 & 3
Community Group
£12 Inc VAT
Charities & Tenants
£12 Inc VAT
Commercial
£36 Inc VAT
Item
Wall mounted projector, screen, speakers and wireless microphone [Jimi's Community Room only]
£10
Wall mounted display TV for wireless projection [Heselden Room only]
£10
Conference call facility [Heselden Room only]
£10
Flipchart stand, paper, pens & whiteboard [All spaces, subject to availability]
£5
The Old Fire Station Supported By